Local SEO Tips for Buffalo Companies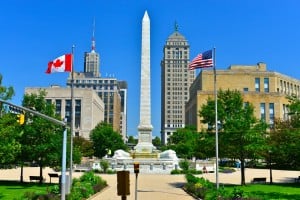 Business owners almost always talk about the technical aspects of Search Engine Optimization (SEO) when talking about SEO. But an often overlooked facet of SEO is local SEO, referring to the company's visibility on search engine sites.
When operating in the Buffalo, NY area, it is best to employ different SEO strategies given the cutthroat competition among well-performing businesses. So, companies should not just use technical SEO, but also local SEO. This advice is not only for brick-and-mortar companies but also for digital ones who want to increase their potential customer visibility.
How can businesses make the most of local SEO?
Here are some tips for companies to improve their local Buffalo SEO rankings:
Publish on Google My Business
Before you consider posting on Google My Business, have the following in place: a fast-loading website that is secure and has a clear-cut layout and great content, and social media pages where customers can find you. Once your site and social media pages are in place, you can then put the correct details on your Google My Business. Be sure to put in the right address, phone numbers, email addresses, and operating times. Make sure to pin your business on the map accurately. These things may sound trivial, but you'll be surprised as to the number of companies who put the wrong information on their Google listings. It takes a while for Google to change details on your page, so make sure you take extra caution before hitting "Publish."
And, have we mentioned that you need to wait for a snail mail with a verification code before your company is published? If there are significant changes once released, you would need to wait again for this snail mail to get to you before these changes are posted. Accuracy is of high importance in the digital advertising space.
Let customer reviews do the talking
When companies offer the same services, it can be difficult for potential customers to decide. The defining factor? Customer reviews. 
A survey conducted by Dimensional Research show that an astounding 90% of customers are influenced by business reviews when making decisions. That's a significant factor to take when building your business for local SEO.
Any other review does not suffice, though. The quality of reviews is critical to driving up sales. A happy customer giving five stars without sharing his/her personal experience as to why you were given five stars, is no better than someone who gave you four stars but explained as to why you were given such score.
You must focus on building an organic client base, and from there build your potential customers' trust in what your company can do and offer. Never pay for a good review; instead, let your happy customers do the marketing for you. But make sure to remind them on which platforms they can send their appreciation for your Buffalo company.
Be mobile-ready
Gone are the days when a mobile-friendly site was just an option. Now, it is a must. An absolute must. With more people using their smartphones to browse the internet rather than the desktop, it is important for every business to be available for that demand, too. WordPress automatically transforms your desktop site into a mobile-ready one, but other platforms offer you the option to make a different one for desktops and mobiles. There is no better option because it is up to you as to what you want to achieve with your website.
Once you've set up your desktop and mobile sites, make sure to preview drafts on your devices before publishing them. And having a fast-loading website is always a big plus for your business. You can lose a lot of potential customers when your site does not load seamlessly. 
Go live on social media
Along with a website, make sure to build your social media pages and to update them regularly. You can easily auto-publish your site posts on your social media channels, but make sure you're happy with how the post appears on social media. A cost and time-effective way to manage your posts is through Hootsuite, which allows you to manage different social media profiles under one website.
And social media does not stop with posting. That's why it's called "social" media, right? You have to engage with your audience. If current and potential customers have questions, take the time to answer them. And be timely when responding. Imagine a client thanking you for your services, and you choose to ignore the message. That seemingly naïve behavior can appear rude and can make you lose one customer who was initially happy with your service. And that ignorance can lead to a ripple effect which, of course, you don't want to happen. Excellent customer service should extend even more so to social media.
Running a business in Buffalo can be challenging, but it is possible to get ahead by focusing on the quality of your services and marketing strategies. We hope these tips can help you build and maintain a great name for your business—and a local Buffalo SEO company can make that happen!
Reference:
Hubspot. 16 Stats That Prove the Importance of Local SEO [Infographic].