"WE GUARANTEE YOU #1 POSITIONS IN GOOGLE, NO MATTER THE SEARCH TERM."
It's unlikely that you've been involved in the SEO agency community as long as us, but this is something that a few agencies have been saying since the dawn of SEO (same as the dawn of the search engines — AltaVista fans here?).
The offering of SEO services is likely considered to be among one of the most competitive marketing verticals available to brands. Everyone and their mother's hedgehog reads a blog post about SEO strategy, the most basic of the basics, and believes they can offer SEO campaign execution as service.
To make matters worse, these specialists are likely implementing really bad SEO techniques that are either severely outdated or methods that are considered blackhat/unethical, especially in the realm of link building.
Because of the competitiveness of the industry, many folks try to up their game by pitching what we call, the 'Guaranteed SEO Offering,' which is essentially the digital marketing agency promising first-page search engine rankings or the client can get their money back.
SEO campaigns are not like other digital marketing verticals, like PPC or social media marketing. They require in-depth keyword research and reliance on search engine algorithms to improve a website's position in organic search.
In the video below (transcript further down, if you'd rather read), we explain why the guaranteed SEO service should be avoided at all costs and why no SEO firm should promote guarantee rankings. This is a serious topic for any brand, from small businesses to large corporations, searching for a new SEO agency and one that continues to be discussed heavily in the SEO & online marketing community.
Video Transcript
Promises, Promises, Promises, we've all heard of those SEO agencies that offer the world and give nothing close.
Many agencies go as far as to offer guarantees on these SEO results.  Are these companies truly capable of offering these type of promises, or are they just trying to simply close the sale?
In this video, we dive into Search Engine Optimization guarantees and what you can expect when you speak to a company offering you a promise of results.
Hey, this is Jason Berkowitz Founder & SEO Director of Break The Web, coming to you with a new video about SEO guarantees.
Many times throughout my career I've heard many variables of the SEO guarantee in a variety of forms.
Someone might ask, do you offer guarantees.
Another person might mention, this other agency guaranteed me results. What can you do?
So let's dive into the reasoning behind guaranteed results, whether it's a good option for you, and some more pro tips on agency red flags.
Now, one important thing to remember when searching for an SEO company is that business is business and many companies employ very skilled salesmen that are quite keen of making sure they can get you to sign on the dotted line.
Because of this, many salesmen are more focused on their commission checks, versus the true well-being of the newly onboarded client.
They may go as far as saying, we promise SEO results, or we won't charge you until we get those results.
So, let's dissect this a little bit.
The Guaranteed SEO Results
It's virtually impossible for someone to guarantee your SEO results. As we've mentioned before, it's a very popular sales tactic but since we're relying on metrics that are used for the search engines to verify the trust and relevancy of a website, it's impossible that any agency can guarantee these type of results.
Even Google has even stated multiple times that if an SEO agency is offering you guaranteed results or even states that they have in with someone who's currently employed by Google, you should question the general motives of the SEO specialist you're chatting with.

This also ties directly into the introductory call or what's truthfully the qualification call.  This call is done to ensure that the SEO company has the potential to be the right fit for you and your website, as well as ensuring that you're the right fit for the SEO company.
Many times during this qualification call, you might ask questions that simply cannot be answered by the salesperson because it might be a bit too technical.  This makes it super-easy for the salesperson to make up an answer that they believe you'd like to hear.
In one way or another, as the SEO director in our agency, I'm heavily involved with the entire sales process, to ensure that we're able to give the best answers that'll properly manage the expectations of the campaign.
To take it one step further, some agencies even go as far as to offer guaranteed SEO services straight on their website, which is a typical no-no for Search Engine Optimization services.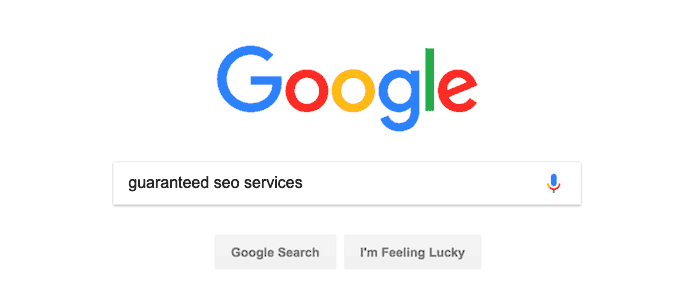 These types of promises have the very potential that the SEO agency you're in contact with is likely using outdated or questionable tactics that might even lead to a search engine penalty of your website, i.e. link building.
Simply put, many SEO agencies fail to evolve as the algorithms get more advanced, leading to improper execution and poorly managed expectations.
So, to summarize, if an SEO agency is offering you guaranteed SEO results, that should be taken as a red flag. It cannot be done, and no agency can offer you a guarantee.
Before we wrap up, there's another type of "promise" that tends to go be mentioned by some companies and that is…
We'll Work For Free Until You Get Results
The second type of guarantee that many agencies will give is that they will work for free until you get the results that you ultimately agreed upon.
This is a scam in and of itself.
This way, they can get x amount of dollars from you over the course of x amount of months for the contract that you signed.
What they will do is simply take your money for a few months, not do any work, then after a few months say that they will work for free until they get you the results, but nothing will change.
These SEO firms typically have extremely low pricing and a lack of track records, testimonials & case studies to back up what they preach.
They won't do anything different, they won't keep trying because they weren't trying to begin with.
They were able to squeeze a few dollars out of you in the first few months and will now be moving you from person to person within their agency until you just stop emailing or calling them.
The lesson here is simple. many Search Engine Optimization agencies will do what they need to do, will say what they need to say, to close a sale.
It's no secret that the SEO industry is very competitive and businesses need to create that market differentiation as much as possible and sadly, that means stooping into low levels like this to close a sale and bring on a new client.
What Can You Do About It?
When speaking to a new SEO company one of the things that you need to do is to qualify the company.
You could even ask the marketer if they can offer guaranteed search engine rankings to get a feel for the style of their operation.
Most respectable companies, like ourselves, will answer that we cannot simply guarantee SEO rankings.
But what will take place, is the time-tested framework that has been used countless times to transition websites in the search result.
---
It's companies like this that give SEO, as a marketing campaign, a bad name.
SEO works very very well when executed properly and proper optimization has the potential to bring in a lot of quality traffic from the SERPS.
Just making sure you hire the right company is the most important thing in the SEO plan.
---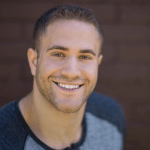 ---