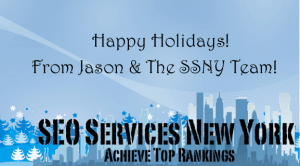 Wow, I can't even believe to describe what an amazing year 2013 has been. In the beginning of this year, I was working part-time as a Search Engine Optimization Director for a big media company in NYC. In May, I decided to fully branch off on my own and become a self-employed internet marketer full-time.
Since 2010, I have helped hundreds of businesses become what they are today but nothing was quite like 2013. With all the algorithm changes in Google, I have proven to show continued success with a complete comprehension of what the search engines desire.
Thankfully, each and every one of my clients have seen massive amounts of success in both website conversions and business growth.
To each and every one of you, I truly thank you for the opportunity to allow myself to grow my business into the team it is today.
Each and every one of you should be expecting a holiday gift in your email in the coming days.
Happy Holiday to everyone and let 2014 be filled with even more success.
Jason